#26 Sweet Seventies
What's new in the Pyth ecosystem? Catch the latest on the #PoweredByPyth community: DFlow, Xhro, Drift, Paloma as well as the latest data publishers arrival!
Pyth network is a financial oracle solution bringing valuable market data to the general public. The network does so by incentivizing market participants — trading firms, market makers, and exchanges — to share their price data on-chain directly. The network then aggregates this data on-chain and makes it available for on- or off-chain applications. Discover more in our whitepaper and wiki.
---
What's New in the Pyth Ecosystem?
Pyth unlocks some of the best data for builders, pioneers, and innovators building on-chain and off-chain financial applications.
It's our pleasure to support and build alongside so many talented teams and highlight their newest launches and debuts.
DFlow is a decentralized marketplace for order flow. Order flow markets are markets where participants can buy/sell order flow. The existence of this type of marketplace has tons of great downstream effects on the health of the crypto ecosystem.
For example, this is the infrastructure that makes it possible for applications like wallets to offer their users the best trading experience while also monetizing that order flow. It's also an implementation of payment-for-order flow but done in a way that is focused on increasing the transparency and health of the ecosystem.
DFlow leverages Pyth's price feeds to algorithmically enforce fairness in the markets. More specifically, DFlow uses a decentralized price oracle (currently, Pyth) to mimic the National Best Bid and Offer (NBBO) in equities. DFlow programmatically requires market makers to fill orders at prices at or better than the oracle price.
As of today, Solana DeFi has been mostly relying on centralized stablecoins: USDC issued from Circle and USDT from Tether — close to 99% of stablecoins on Solana are from either two previously mentioned. While convenient for users, using centralized stablecoins carry risks such as unilateral censorship or trust assumptions (e.g., that all issued stablecoins are backed off-chain by an equivalent amount of collateral).
In partnership with Maker Growth and some of the key Solana dApps, we are proud to lay the bricks towards a more decentralized future (on Solana).
Where will you be able to use DAI on Solana?
For more details, check out the Medium Blog.
Hxro Network, built on Solana, is a fully composable, on-chain derivatives primitive that provides core exchange, risk, and settlement infrastructure for professional-grade financial applications.
After months of building, the Hxro Network is becoming a reality! Indeed, earlier this month, the platform USDC collateralized perpetuals and expiring futures went live. To access the network beta and start your Hxro journey, just join the Hxro Community Discord.
To learn more about how Hxro leverages the Pyth price feeds (and what else is to come), check out our recent Pythiad about Hxro.
Drift is building a full-suite DeFi trading experience with spot swaps, derivatives (perpetual futures), borrowing/lending, and liquidity provisions under one umbrella.
After a successful v1, with over $10B in volume traded over six months, the Drift Protocol has received a significant lift (now called Drift v2) to bring deeper liquidity for traders, a smarter market maker, and greater protocol collateralization.
If you want early access to the Drift v2 Alpha Mainnet, rush to meet the below criterion!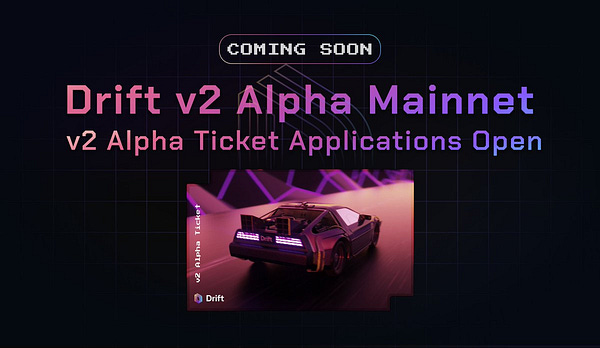 Digitize your returns with the Pyth-Paloma LOB
The Paloma Protocol is a Cosmos-SDK blockchain protocol custom-built for omnichain communication that allows permissionless controls of any contract on any chain.
The Pyth-Paloma LOB is an on-chain, scheduler-based application. It provides an end-to-end synthetic limit order service in the DeFi space, and already found its first user!
AlgoReturns, a futures trading research firm founded by quant trading professionals, has partnered with Paloma to leverage the Pyth-Paloma Limit Order Bot (LOB). Mixing its trading strategy with proprietary trading signals, AlgoReturns found a suitable solution for their disciplinary risk management system.
That's the scoop on our data users this fortnight.
What's Happening on the Publisher Side?
Sweet Seventies
In mere eighteen months, the Pyth network came a long way. The most recent milestone happened earlier this week as we welcomed our 70th publisher! But bear in mind this is just the beginning. No stops are scheduled before the network gathers hundreds of the most advanced financial players.
More data publishers mean even more support for all of your favorite asset prices on-chain, as well as increasing the scope of assets supported.
SCRYPT Digital is a Swiss-regulated company offering a single point of access to digital assets. Through partnerships with leading providers, SCRYPT Digital offers a complete best-in-class suite of services to institutions, including execution, custody, staking, market making, and investment services.
SCRYPT Digital will publish its proprietary market data for digital assets to the network.
Norman Wooding, founder, and CEO of SCRYPT Digital, said, "Institutional adoption of Digital Assets is well underway, and the same interest is now being geared towards DeFi. This partnership demonstrates the strength of SCRYPT Digital's institutional offering and resolve in bridging the gap between 'TradFi' and 'DeFi', with the further advancement of critical DeFi infrastructure having the potential to unlock greater efficiency and transparency in financial systems. Recognizing the value of technology as a catalyst for more efficient and transparent financial markets, we see this integration as a strategic fit, and as innovators supporting innovators, jointly pushing boundaries and addressing inefficiencies in the Digital Asset industry."
Opensource Financial Data with D2X
D2X plans to be the first institutional-grade and regulated derivatives exchange for digital assets in Europe. Its strong trading interface and capital-efficient risk management will allow institutions to adopt the asset class through cash-settled derivatives.
D2X will contribute its first-party crypto price data to the network, adding value to the DeFi community Pyth helps support.
D2X's CEO and Co-Founder Theodore Rozencwajg stated: "D2X is very excited to get involved with Pyth's game-changing oracle network and become a core data provider for BTC and ETH prices initially. This partnership is a great way to serve our mission to bridge TradFi and the world of digital assets."
Don't Flip a Coin. Rely on (Coin) Metrics
Coin Metrics is the leading provider of crypto financial intelligence, offering network data, market data, indexes, and network risk solutions to the most prestigious institutions touching crypto assets.
Coin Metrics will provide the Pyth network with a fully proprietary and transparent new pricing source that promotes the functioning of efficient markets, reduces information asymmetries among market participants, facilitates trading in standardized contracts, and accelerates the adoption of cryptocurrencies as an asset class with the highest standards.
"Pyth is establishing itself as a leading on-chain market data solution, opening up an obvious synergy with Coin Metrics. Our independent and transparent crypto asset prices will be additive to Pyth's efforts to establish high-frequency updates for scalable blockchains, layer 2 solutions, and TradFi institutions," said Tim Rice, co-founder, and CEO of Coin Metrics. "We are excited to further enhance Pyth Price Feeds by contributing our Reference Rates, and we look forward to more opportunities to bring our range of data intelligence on-chain to support more advanced DeFi products."
Financial Data Full of Alpha(lab)
Alphalab Capital is a technology-driven trading group that transacts over $2B daily in crypto assets on 40+ exchanges, both centralized and decentralized.
Alphalab will publish on-chain, real-time market data for crypto assets.
"As transparency and data reliability is very important for the growth of DeFi, we're excited to be part of this data ecosystem. By providing data to Pyth, we are able to contribute to the scalability and transparency of blockchain operations. Our partnership with Pyth enables anonymized yet increased access to institutional grade, high fidelity data to DeFi applications." says John Gu, CEO of Alphalab Capital.
Auros is an algorithmic trading and market-making firm that delivers best-in-class liquidity for exchanges and token projects.
Auros will be providing the Pyth network with data for a range of cryptocurrency symbols.
Ben Roth, Co-Founder, and CIO of Auros, said, "Auros is thrilled to be joining the Pyth network and helping to contribute reliable, high fidelity data for all. By sharing our high-frequency trading data with a truly on-chain decentralized network, we aim to foster the sort of innovation that will lead to better financial solutions for all participants. We expect the Pyth network will become an invaluable part of a future decentralized financial system and are delighted to be partnered with them on this mission."
It's all About the Data Flow(desk)
Flowdesk is a globally-based financial technology company. Founded in 2020, Flowdesk combines significant experience from traditional markets with acute knowledge of algorithmic trading and crypto.
Flowdesk will contribute its proprietary market data for crypto assets to the network.
Guilhem Chaumont, CEO of Flowdesk, stated, "As a crypto-financial technology provider, Flowdesk is committed to keeping up with the latest technological developments in DeFi. We are willing to push crypto-financial products and web3 adoption to the next level. Creating a consortium on real-time on-chain market data is a mandatory step to build the decentralized calculation agent required by crypto derivatives, and we are looking forward to participating in this great project."
---
We can't wait to hear what you think! You can join the Pyth Discord and Telegram, follow us on Twitter, and be the first to hear about what's new in the Pyth ecosystem through our newsletter. You can also learn more about Pyth here.